Go simple and be beautiful.
A daily routine of Shunly® Skincare cleanser, toner and serum hydration ensures your skin is well hydrated without having to apply moisturizer. Your skin will appear younger, smoother and feel hydrated in a natural way. Just like when we take vitamin supplements to help our immune system fight illness, these powerful antioxidant vitamin serums work to boost your skin's ability to fight aging processes.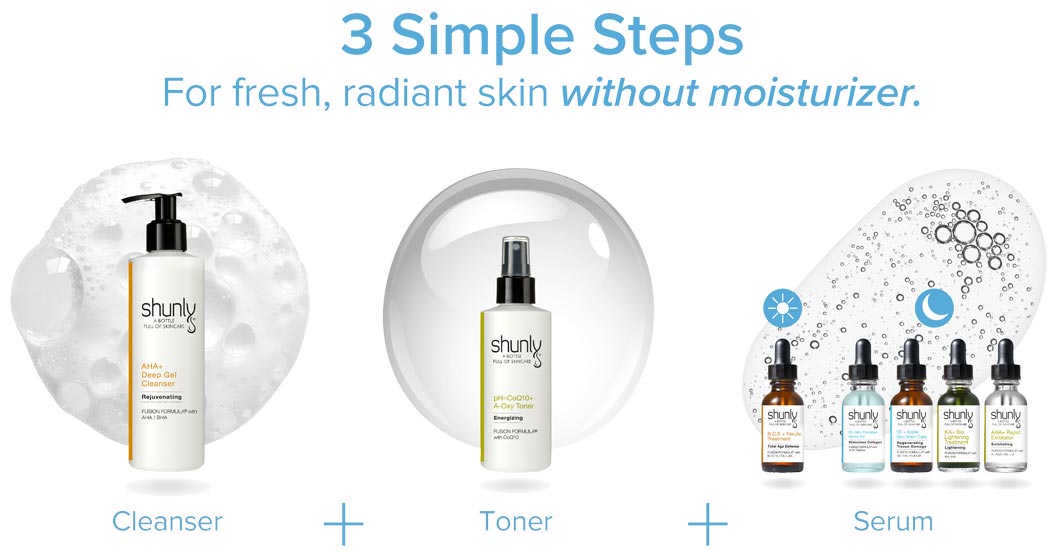 The "How To" Routine
To maximize the performance of each product use the following regime as an example.
Every day Cleanse and tone skin, follow with any of the prevention antioxidant vitamin C serums in the morning, such as B,C,E + Ferulic Treatment, then use the protection or correction serums on consecutive days in evening .
Monday · Exfoliate with AHA + Rapid Exfoliator
Tuesday · Brighten with KA + Bio Lightening Treatment
Wednesday · Collagen – B3, B5 + Peptide Hydra Gel
Thursday · Repair tissue with SE + Apple Skin Stem Cells
Friday KA+ Bio Lightening Treatment
Saturday SE + Apple Skin Stem Cells
And so on…
Cleanser
AHA + Deep Gel Cleanser: Deep cleansing action that thoroughly removes excess oil, surface impurities and make-up, leaves skin fresh and conditioned. Delivers gentle exfoliation to improve skin tone and texture.



Toner
pH≈CoQ10 + A-Oxy Toner: Invigorating and protective botanicals delivered at a cellular level. Helps to moisturize and provide a natural pH-balance for the skin. Brings tightening and radiance-boosting benefits.



Serums
B,C,E + Ferulic Treatment: Prevents damage from environmental pollutants and UV radiation. Brightens skin and guards against free radical damage. Soothing, healing, and moisturizing properties, stimulates collagen production.



B3, B5 + Peptides Hydra Gel: Restores skin's optimal moisture balance, repairs, and regenerates epidermal cells. Muscle-inhibiting and collagen-building that reduces wrinkles and improves smoothness, suppleness, and firmness.



SE + Apple Skin Stem Cells: Wrinkle reduction, collagen proliferation, and skin rejuvenation. Used with toner, ensures your skin is hydrated without even having to apply moisturizer.



KA + Bio Lightening Treatment: Corrects hyperpigmentation, reduces redness and irritation, provides soothing, anti-inflammatory, and antiseptic functions with immediate and long-term skin tightening effect.



AHA + Rapid Exfoliator: Provides resurfacing, cellular renewal, and maximum hydration. Exfoliates, hydrates, and renews the skin's fabric. Boosts hydration levels to keep skin moist, plump, firm, and hydrated.



What's different about Shunly's serum-based hydration approach?
Shunri is the first skin care professional to advocate for a "no moisturizer needed" approach to beautiful skin. She believes the key to healthy, beautiful skin is achieving and maintaining the right pH balance followed by the treatment of serum-based hydration, not oil/emollient-based products.
Today, her philosophy for healthy, beautiful skin without the use of moisturizers has been adopted by many skin care professionals who also recommend the "no moisturizer needed" skin care routine to their clients.