Each product works according to one or more of the 3 SkinCareActs™: Protection, Prevention, and Correction.
Together they make a complementary skin care routine for every skin type at any age.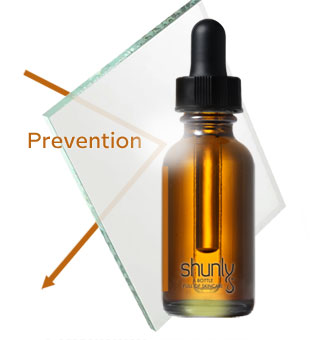 Act 1


PREVENTION
PREVENTIVE ACTION
AGAINST PREMATURE AGING
The ultimate way to protect youthful and healthy appearance.
The best way to avoid skin's premature aging is PREVENTION from environmental damages that occur to the skin as we age. Shunly Skincare products are designed based on the most powerful anti-oxidants known to modern skin care science to provide the most powerful PREVENTION from external aggressors such as UV rays, pollution, etc. – all against skin's premature aging.
Our PREVENTION products are denoted with a

colored bar on the bottle and are best used in the daytime.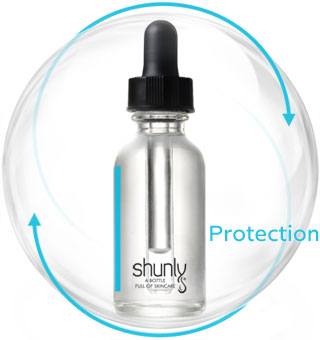 Act 2


PROTECTION
PROTECTIVE ACTION AGAINST
ENVIRONMENTAL FACTORS
Umbrella-like protection against environmental factors.
Did you know that prolonged exposure to UV rays (sunlight) is the main reason for skin discoloration and premature skin aging that may ultimately lead to skin cancer? Our advanced treatments with SPF and powerful anti-oxidants are specially designed to provide the most efficient PROTECTION from environmental aging. Used daily our exclusive moisturizers provide PROTECTION and prevent the development of wrinkles and dark spots occurring. FUSION FORMULA® products featuring Zinc Oxide bring umbrella-like PROTECTION to your skin slowing the processes of photoaging.
Our PROTECTION products are denoted by a

colored bar on the bottle and used day or night.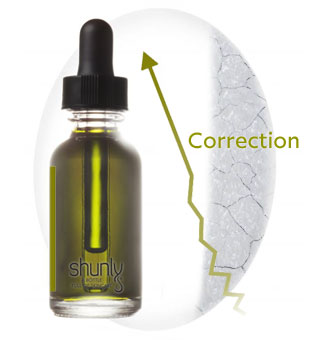 Act 3


CORRECTION
CORRECTIVE ACTION
AGAINST DAMAGE
Specialized and effective treatments for specific skin concerns.
Shunly Skincare's CORRECTION products are designed based on various power FUSION FORMULA® featuring the most powerful anti-aging, anti-wrinkle, lightening, and exfoliating ingredients to help restore and rejuvenate skin for a healthier and more youthful look. If you're concerned about developing visible changes in your skin such as fine lines, wrinkles, discoloration, collagen loss, moisture loss, age spots, blemishes, and sagging skin etc. Shunly Skincare's concentrated treatments will make a difference.
Our CORRECTION products are denoted with a

colored bar and used only at night.
---
3 SkinCareActs™ FAQ's
---