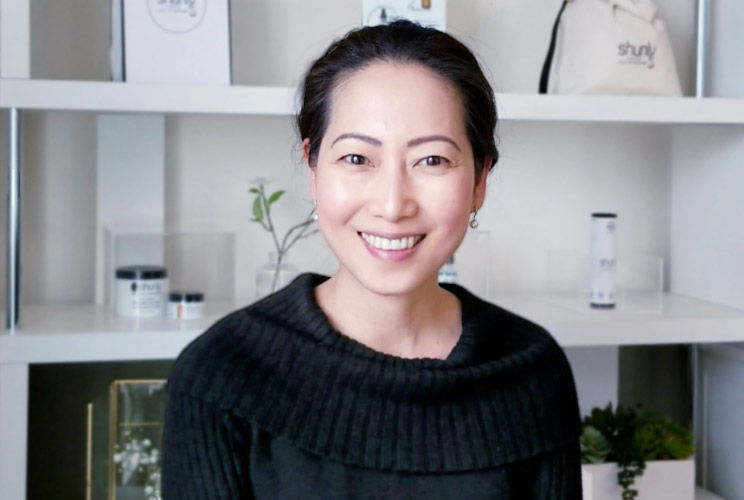 Shunri MacQuarrie

Skin Care Expert
Innovator
Entrepreneur
Shunri takes a revolutionary approach when it comes to restoring her clients' inner and outer glow.
Stepping outside the bounds of conventional beauty wisdom, she is the first skincare professional to advocate for a "no moisturizer needed" approach. Shunri believes the key to healthy, beautiful skin is achieving and maintaining the right pH balance.
"Healthy skin is not about how many products you use on the skin. Younger-looking skin is not about how many expensive creams you apply," Shunri explains. "It's all about the right pH balance, without moisturizer. If you understand how pH works on the skin, you will discover the true beauty within you."
Shunly Skincare believes the 3 SkinCareActs™ of Prevention – Protection – Correction supported by her highly concentrated FUSION FORMULA® combinations of purposeful ingredients is what all skin needs, regardless of the sex, skin type or age.
"With Shunly Skin Care," she says, "I am committed to helping you discover a sense of well-being that will stay with you for a lifetime."
The brains behind the beauty
Now a well-established professional aesthetician, Shunri has been fascinated with skin care products and procedures and their ability to change and heal the skin since a young age. Early on, she experimented with high-end cosmetic lines such as Shiseido, Kanebo, Sofina, Kose, Anessa, among others, but felt like she could make something even better. She also knew there was a lot to learn in order to deliver real solutions for beautiful, healthy skin.
Her ambition to receive the best possible training and education led Shunri to move from Japan to Texas. Since then, the United States has been her home.
Now Shunri has over 22 years of experience in skin care supported by her formal education, extensive field practice, and certifications from the internationally recognized institutions such as: IDI – The International Dermal Institute, Skin Ceuticals, Nylynn LLC, Health & Nutrition Detoxification M'llis, Dermalogica, G.M Collin, M.D Formulation, I.D Bare Mineral, Methode Physiodermie, and Aveda. She is a widely recognized professional in her field and has advised many clients with problematic skin conditions such as adult acne, middle-aged skin stress, post-pregnancy skin issues and photo damage at a young age, all with astonishing treatment success.
Her advanced knowledge of skin care procedures, product ingredients and formulations, and her passion to make the most effective professional products resulted in the formation of her own company – Shunly Skincare. This natural, science-backed line of treatments is serum-based and free of oils and emollients that providing 3 simple steps solutions for women and men looking for products that deliver visible results on the skin.
Feel the difference with each drop of Shunly Skincare!