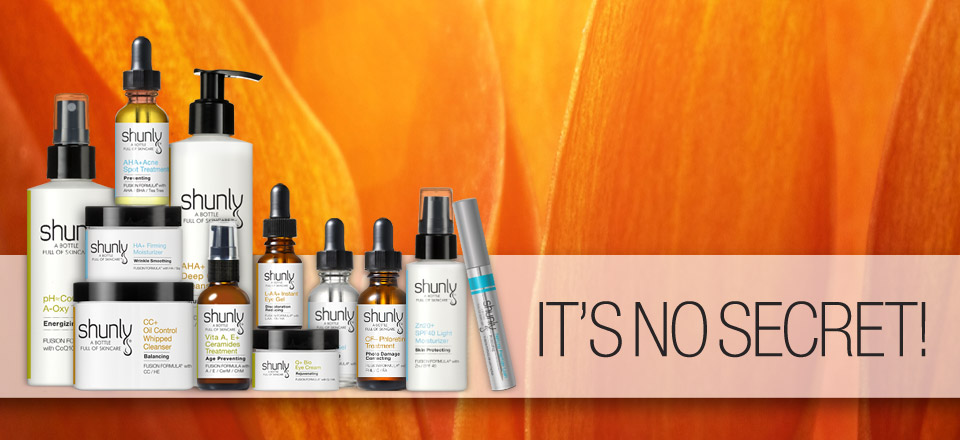 Why buy Shunly
®
Skin Care with so many big name options to choose from?
Our Passion

A strong brand and great product is not all about fancy packaging which is quickly thrown away. Fancy packaging only further challenges our ecosystem. Shunly® focuses on providing top quality ingredients, carefully developed to effectively treat a variety of skin types and conditions. Expensive, eye-catching packaging is not our priority – frequent production is. Large production runs may reduce costs but they create excess inventory to sit on shelves for long periods of time without knowing when product will actually reach the consumer. Shunly® products are made and packed fresh to deliver healthy, beautiful, radiant skin. Your patients/customers can feel good within while achieving visibly beautiful results. We measure success not by how many fancy bottles are produced and sold but by how much quality and attention to detail goes into every product we make.

We only exist because of a passion for perfection and because our company, like yours, are willing to evaluate and focus on skin care products that have scientifically proven results and keep patients/customers coming back.

It is our passion to make sure that your patients/customers' experience with our skin care line is nothing short of thrilling – something we consider a privilege as well as a responsibility.

Our Promise

Our promise is to create innovative blends of only purposeful ingredients (A Bottle Full of Skincare®) that respond precisely to skin issues through one of the 3 SkinCareActs™.

Shunly® Skin Care scientifically advanced FUSION FORMULA® combines both:

carefully selected ingredients with proven benefits
concentration of extracts that are suited to make a visible change in the skin

Each product works according to one or more of the 3 SkinCareActs™: Protection, Prevention, and Correction. Together they make a complementary skin care routine for every skin type at any age.

Shunly® products do not contain parabens. No testing has, or ever will be conducted on animals. All Shunly® Skin Care products are made in the USA and are always packed using eco-friendly techniques.

Our Brand

What sets us apart from mass-market skin care products? Significant breakthroughs in skin care happen rarely as most commercial cosmetic companies utilize formulas that work best in a high-speed production environment but provide minimal results to individuals within the masses they target.

Shunly® Skin Care is a breakthrough in skin care ingredients, plus offers intense results to users through our unique and purposeful formulations. We are also a true break-away from the mass production, commercial and retail-style skin care products on the market today. Your patients/customers are individuals and we create products and skin care regimens for their needs using only the highest quality ingredients.

Our breakthrough skin care formulas offer a variety of scientifically-active-ingredients to create a visible, positive difference in the appearance of skin. Our products contain powerful antioxidant ingredients which meet the United States Pharmaceutical (USP) highest purity grade standards. Our FUSION FORMULA® featuring active ingredients, combines preventative, corrective, and protective benefits to restore skin's youthful appearance.
Opportunities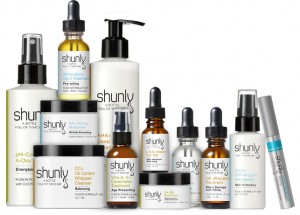 We offer our complete line to Resorts, Medical Spas, Salons, Dermatologists, and Skincare Professionals worldwide. Our business partners are purposely selected in every city, state and country. We look forward to working with you to offer exclusive Shunly® Skin Care brand distribution rights (if qualified) and special discounts to accommodate seasonal promotions or international costs for export. Our business continues to grow and we are always open to new reseller's distribution regions. We offer Shunly® brand products based on volume, including both individual-size consumer retail and larger, professional salon-size including exclusive products for your business' needs.
For products list or additional information about opening an account, please contact us by e-mail at betterskin@shunlyskincare.com.
Things to consider when choosing the right product line for your patients/customers
Skin Care
The quality of the active ingredients in the product, not the brand-name
Formulation and production based on quality, not quantity
Backed by science, delivering real results
Free from PABA, parabens and never tested on animals
Non-comedogenic formula
Potent antioxidant, anti-pollution & strong anti-inflammatory
Excellent for use in aesthetic and clinical procedures
Products that are truly made in the USA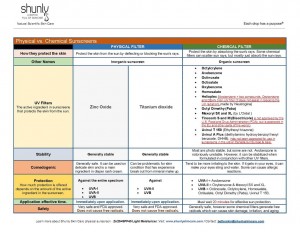 Sunscreen
The quality of the active ingredients (seldom found in big brands)
Broad spectrum of physical ingredients with Zinc Oxide, not full of chemical filler (organic sunscreen filter)
Zero skin irritation after application
Safe and effective for older clients as well as children
Free from chemical filters, PABA, parabens, oils, fragrances and never tested on animals
Highest percent of the active physical ingredient with Zinc Oxide
Non-comedogenic formula designed for all skin types, including hypersensitive, eczema and Rosacea-prone
Potent antioxidant, anti-pollution and strong anti-inflammatory
Excellent for use in aesthetic and clinical procedures